Volume attention.
What is D'z IMAGE?
Image-based diagnostics innovations through
medical-engineering collaboration
Based on its R&D concept of
"reaching reality through imaging technology,"
Casio has formed medical-engineering collaboration
that leverage its long history of ground-breaking image
processing technology to generate innovations
in image-based diagnostics.

Our goal is to make meaningful contributions to medicine
and to society more broadly by developing solutions
that will not only provide patients with more accurate and
effective examinations, but also help physicians in clinical
settings to work more effectively and make earlier diagnoses.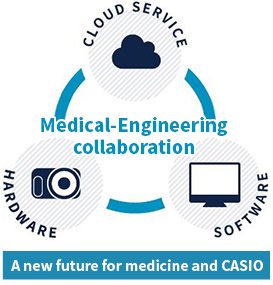 ©2021 CASIO COMPUTER CO., LTD.